The Dirtbike Shop
I took a gig working at a dirtbike shop over the winter. It was fun while it lasted, but I need to focus on my own business 100% now that the riding season is almost in full swing.
I have some thoughts about motorcycle shops. Dealerships are terrible in every way. One time I walked into a dealership with the part number for a drain bolt gasket, thinking I'd pick up some grips at the same time. When the lady behind the counter told me she would have to order the drain bolt gasket, I told her it was a circular piece of aluminum with a 14mm hole in it. She insisted she would have to order it. I told her to put the grips back and left. I got the drain bolt gasket I needed from Advance Auto (in the Dorman isle). Then I dug some grips out of my toolbox and installed them.
Independent shops are another ball game. There's no real expectation they'll have parts on hand, but it gets super hairy working for them when they aren't supremely well organized. I've found the best way to stay organized is to control every aspect of the repair process myself. I'm simply not willing to do that for a business I don't own. Hence I'm focusing on my own business from here on out.
With that said, your best bet for bike work is likely to be an independent shop. Here in Denver, I unequivocally recommend Imperial Sportbikes and Newbold's Motorbike Shop if you have a project that's beyond my scope. Both of those shops are independent and extremely competent. Things that are "beyond my scope" as a mobile mechanic include bottom end rebuilds, high-zoot rebuilds on modern sport bikes, and tire changes on cruisers and sport bikes. I can do pretty much everything else your bike might need on the spot.
Appointment Scheduling
My Fridays and Saturdays are now open for you to schedule an appointment. Weekday appointments can be scheduled online. If you need a weekend appointment, you have to call me at (720) 634-6935 or (719) 565-9295.  Weekend appointments can now be scheduled online as well! Use the online booking tool to schedule an appointment when it's convenient for you! 7-days a week, pretty much sunrise to sunset.
The only thing I won't do is roll out the same day you call to help you fix your bike. I get booked out 1-2 weeks in advance. I simply don't have the time to do same-day appointments. In my humble but accurate opinion, a scooter or motorcycle that needs help does not constitute an emergency worthy of same-day service.
You don't have to use the online booking tool if you don't want to or can't. You can also call me at (720) 634-6935 or (719) 565-9295. Please leave a message if I don't pick up! I'll do my best to return your call!
The *best* way to get me is via email. The address is moto2n.colorado@gmail.com.
Cafe Racer Wiring
I like to think I'm pretty good at wiring up old, carbureted bikes. I've done a bunch of them, including my own bikes. I like to look at the stock harness, compare it to a wiring diagram, take a bunch of notes, then throw the old shit in the trash and build a proper harness from scratch.
I keep wire and connectors in stock. I have all of the tools and supplies necessary to build wiring harnesses for old bikes from scratch. If the wiring on your old bike is giving you fits, or you just want it to look *right*, give me a call. I've wired up old sportbikes, old UJMs (Universal Japanese Motorcycles, i.e. 70s-80s CB/GS/etc customs – cafe/bobber bikes), and GY6-swapped Ruckuses.
I actually wrote a book about how to make the GY6 work in a Ruckus. You can find that here.
As always, you're welcome to turn your appointment into a learning experience. I am more than willing to share my knowledge and skills with you.
Fixed It!
I fix *a lot* of bikes. I don't take pictures of many of them. It's actually kind of random when I do take pictures. I rarely post them on Instagram. I don't use Facebook.
I resent social media for a variety of reasons. If you want to know more about that, Google the words "surveillance capitalism" and start reading.
People tell me it's "good for business," and I don't care. Do you know what's really good for business? Doing a good job on peoples' bikes. Social media is a bright, shiny object I'd rather not carry around with me everywhere I go. That and social media seems to bring out the very worst in people.
I specialize in older Japanese motorcycles and all types of scooters. If you have an older bike or scooter that doesn't run, I'm your best bet for getting it back on the road again.
Random Stuff
My homie just bought this awesome beast.
That's a 2016 KTM 500EXC "Six Days" edition. The same dude has a 2013 Husaberg with the best suspension I've ever felt, ever. I'm looking forward to flogging both of these bikes sometime soon.
I found 4 of these little guys in the chimney.
They're now at a wildlife rescue via Colorado Parks & Wildlife. They were adorable! It'd be really cool to have enough money and property to rehab stranded, injured, or orphaned wildlife. Some day maybe!
I like rocking my own gear, so I had a bunch of hats made up.
If you want one, let me know. If you're really cool, I'll give you one. 😛
The GSXR of DOOM
I call it the GIXXER OF DOOM because it's tried to kill me at least once. It's kind of a "bitsa" bike. A bit of this, a bit of that… eventually you have a bike you can ride.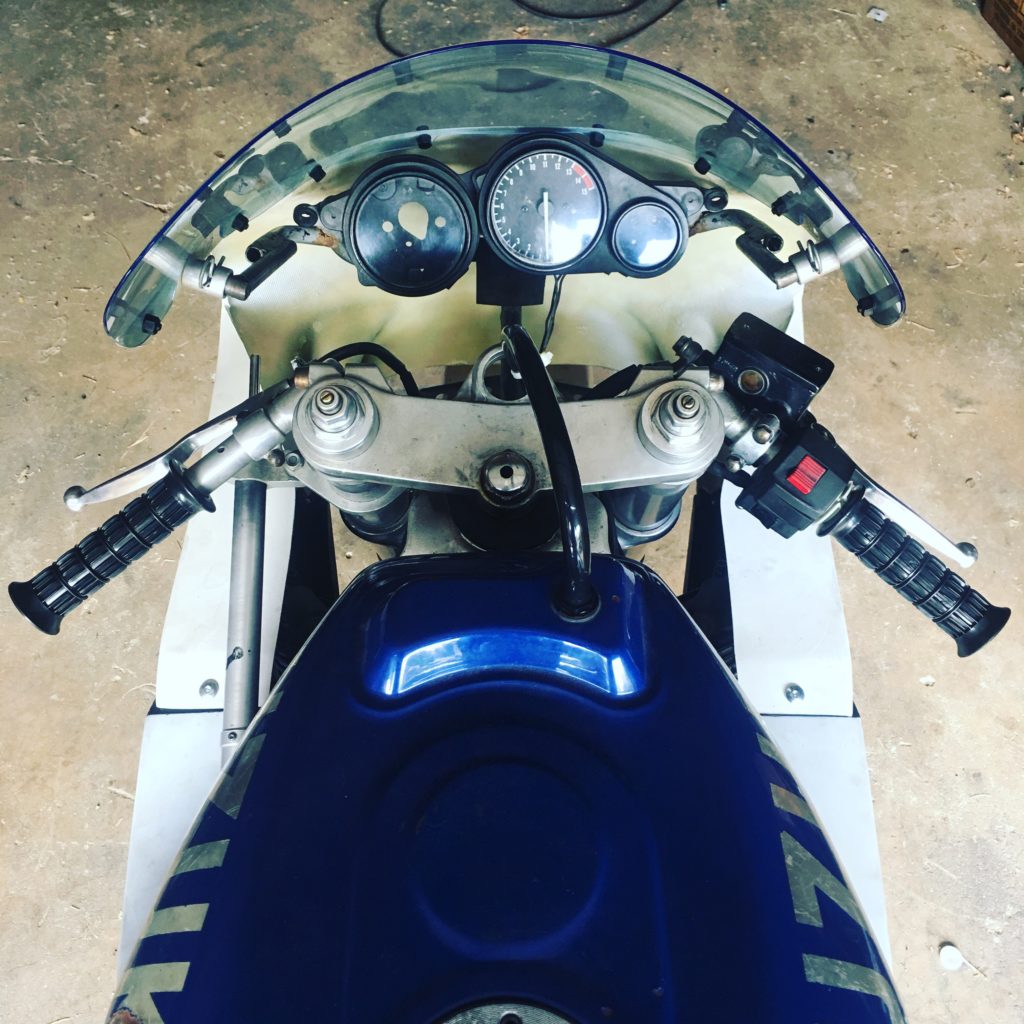 I dragged this thing out from underneath a dude's porch, sang him a song, and went home with it.
An incomplete list:
Used tank, Pingel petcock, Dynojet carb kit, K&N pod filters, Yoshimura "Duplex" exhaust, Calfab overbraced swingarm, new Bridgestone RS10s, powdercoated wheels, new fairings, new windscreen, "RR" tail from Airtech (w/ Al fab work to make it fit), new chain, new wheel bearings, custom-made wiring harness, alternator-delete from APE Racing, etc etc.
It's finally ready to ride.
See you at the track!!!