I thought the Vino needed a CDI box. It didn't need a CDI box. I figured that out only after buying a new CDI box for it. It turned out to be the ignition switch, which I should have BUT DID NOT catch right away.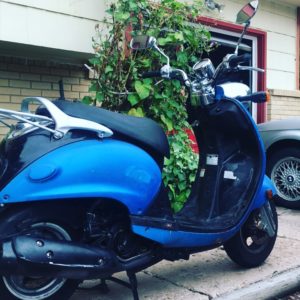 Doh!
It runs now. I installed a new ignition switch, changed the oil, put a new spark plug in it, and replaced the old gas in the tank. That's all it needed to start and run well. I didn't even have to clean the carburetor.
What follows is my take on the Vino 125, which was available here in the states from '04 to '09.
The chassis 
The Vino has an "underbone" style frame. The engine, forks, and plastic are bolted to a steel tube frame.
It feels solid rolling down the road at 55 mph. It feels almost as solid as a Vespa ET4, which has a unibody style frame with an engine bolted to it. The Vino has tiny, 10″ wheels, just like a Vespa.
The front brakes straight-up rock. I can lock the front wheel with ease, regardless of how fast I'm going. The rear brake is a standard lever-actuated drum setup, and it works well, too.
The switchgear seems like high quality stuff, other than the ignition switch that needed to be replaced. The left side switches work great: high/low beam, indicators, and horn. The right side switches work fine as well. The gas gauge even works and seems accurate, which is something of a rarity for a scooter.
The engine
Most scooters sound, and feel, like buzzing wasps going down the road. The Vino 125 is more like a velvet sledgehammer. It will go 50mph+, even here at altitude, with no trouble at all. The throttle is very responsive at 40mph+. It does not accelerate particularly fast, but it's more than enough to keep up with traffic.
The engine is kind of a pain in the ass to work on. It's a forced-air cooled engine, which means there's a fan attached to the crankshaft and plastic engine covers surrounding the cylinder and head.
The spark plug (NGK CR7E) is easy to drop down into these covers while you're attempting to replace it. The exhaust has to come off before you'll be able to remove the right side engine cover. There are 5+ screws holding it on, at least 2 of which are a complete pain to get to. Don't drop your spark plug! If you do, you might have good luck fishing your plug out with magnets.
The scooter itself weighs something like 220lbs. It has a 125cc engine. It goes 55mph at 6000ft on flat ground without much trouble. The Vino 125 would be a huge upgrade compared to any and all GY6-type 50cc and 150cc scooters.
Compared to a Chinese GY6 Scoot
There is no comparison. The Yamaha feels more solid and accelerates with more smoothness and ooomph than just about any GY6-type scoot I've ridden, short of a completely tricked-out 232cc Honda Ruckus.
The Japanese know their stuff. They build high-quality kit, even when it's just a scooter.